Multi-published and Amazon Best-Selling author Cynthia Hickey had three cozy mysteries and two novellas published through Barbour Publishing. Her first mystery, Fudge-Laced Felonies, won first place in the inspirational category of the Great Expectations contest in 2007. Her third cozy, Chocolate-Covered Crime, received a four-star review from Romantic Times. She had several historical romances release in 2013, 2014, 2015 through Harlequin's Heartsong Presents, and has sold close to a million copies of her works. She has taught a Continuing Education class at the 2015 American Christian Fiction. She and her husband run the small press, Winged Publications.
Their inspirational lines, Forget Me Not Romances, which includes some of the CBA's well-known authors and focuses on clean and inspirational reads. Their other line, Take Me Away books, publishes everything else except for erotica or children's books. She divides her time between Arizona with her husband, one of their seven children, and two dogs. She has ten grandchildren who keep her busy and tell everyone they know that "Nana is a writer".
Follow her on Amazon
Sold a million copies of total works (includes print and ebook) since May 2012
Anything For A Mystery, (ebook) remained #1 on Amazon's Christian mystery/suspense category for four months.
Public Speaking"
Continuing Education Class at 2015 American Christian Writer's Conference
Expert panel at 2015 American Christian Writer's Conference
Houston 2016
Scottsdale, AZ 2016
Mentor at 2016 ACFW conference
Spoke at Suspense Writers 2016
Mentor of the year 2017
Speaker at local Suspense Sisters chapter 2017
Having grown up in a family of storytellers, I can't imagine doing anything but what I'm doing. Giving voice to the characters in my head.
My maiden name is Melton, and I grew up in the foothills of the Ozark mountains in Arkansas. Being an army brat, I grew up in Oklahoma, Arkansas, and Germany, before finally settling in Arkansas when I was eleven.
My husband and I now live between Arizona and Arkansas with the youngest of our seven children. We are a true your's, mine, and our's blended family. Three of our children are "chosen" and we love them dearly. One of my favorite parts about being a parent is embarrassing my children in front of their friends! Oh, and letting their friends know I kill people for a living.
I write inspirational novels under my married name and general market novels under my maiden name. Both books are clean enough that I don't turn red when my mother or one of her friends say they're going to buy my book. To know more about me, please check out my Press page.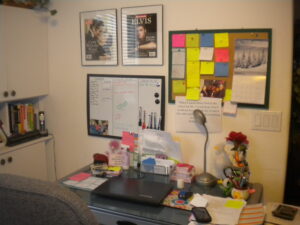 WHERE I WORK
This cute little place holds everything I need, and almost everything means something personal. I have a dry erase board to schedule my next writing project, keep tabs on other writing jobs, and to list what I need to do at home.
The bulletin board holds websites addresses I visit on a regular basis and holds my favorite quote. It's by Erma Bombeck and says, "When I stand before God at the end of my life, I would hope that I would not have a single bit of talent left, and could say, 'I used everything you gave me'."
There is a silk rose given to me by a student of the elementary school I used to work at. It sits in a mug that says, "What deadline?" Next to that is a frog tape dispenser, which to me means, Fully Rely On God. Holding an assortment of fun pencils and ink pens is a ceramic mug brought to me from Mexico by a cafeteria worker at the same elementary school. I have a pink fuzzy bird holding a plaque that states, "Do not start with me–you will not win" and a fuzzy angel flamingo pen, because who doesn't want one of those?
On the wall is a framed Life magazine focusing on "Gone With the Wind" and a Newsweek "Elvis" edition. These are the two categories I collect. I love anything Elvis or Gone With the Wind.
To the left of the desk is a glass tank that holds two Sulcata tortoise hatchlings. On the floor at my feet are two dogs. Behind me is a wall of books: fiction, non-fiction, research. This is my world and I love it.
INTERVIEW QUESTIONS: (Just in case you feel inclined to do an interview on me)
1. When did you discover your love for the written word? My mother said that, not having a Kindergarten close enough for me to attend as a child, that she taught me to read. I took to it easily and have always read above my level. Once I discovered the many worlds between the pages of a book, I was hooked.
2. When did you begin your writing career? I've made up stories for as long as I can remember, but it isn't until a few years ago that I actually began to take the writing process seriously. My first novel, Fudge-Laced Felonies, was released through Barbour in 2007.
3. Tell us something that people may not know about you? I've been on television twice. Once on the backdrop of a weather report filmed on Petit Jean Mountain in Arkansas and another time when a documentary was being filmed at the Pickle Plant where I worked.
4. Do you have a secret desire that may not ever come true? I've always thought it would be a blast to be in a movie. Not a walk on character, but an actual main character. An insane person would be fun.
5. Do you have a favorite book? The one book I own that has stood the test of time is Gone With the Wind and Little Women. I still love them.
6. A favorite author? I'd have to say that in today's market, I love Diana Gabaldon. Her Outlander characters are so rich, I feel as if I know them.
7. Do you have a favorite book that you've written? No, I can't say that I do. I guess Fudge would be it if I had to pick, it being my first and all.
8. Any suggestions for pre-pubbed authors? Never, ever, give up. If you're meant to be an author, you need to write as much as you need to breathe.